WHITE MINERAL SYNTHETIC FILLER COMPOUND
for patching of wall and ceiling surfaces, for interior and exterior use
KLEIB S10 is designed for smoothing, patching and levelling out external walls of buildings (façades). It can be used
indoors, especially in rooms with a high humidity level (e.g. bathrooms, garages); it is suitable for making smooth
surfaces. For manual and machine application.
convenient and economical in use
excellent adhesion and flexibility
waterproof
frost resistant
vapour permeable
reinforced with micro-fibre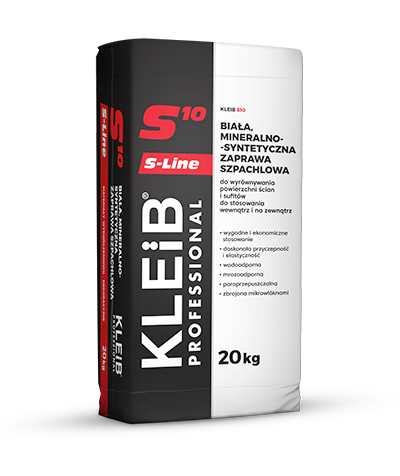 packaging
20 kg
pieces per pallet
60
average consumption
Approximately 1.3 kg of dry mortar is used to make 1 m2 of plaster with the layer thickness of 1 mm.
CALCULATE CONSUMPTION
Download product sheet
Current documents