KLEIB M9 is an element of the external thermal insulation composite system
with rendering (ETICS) marketed under the trade name KLEIB.
Intended for protective and decorative rendering coats in the KLEIB external thermal insulation system with rendering
coats. It can be used on any mineral surface which is even and sound. It can also be applied on surfaces of building
base courses, wall bases, balcony balustrades, fencing elements, as well as in interiors where increased mechanical
resistance is required, such as staircases, corridors, halls etc.
High durability
Resistance to washing, cleaning and abrasion
Exceptionally aesthetic
High resistance to mechanical damage
Total resistance to UV rays and weather conditions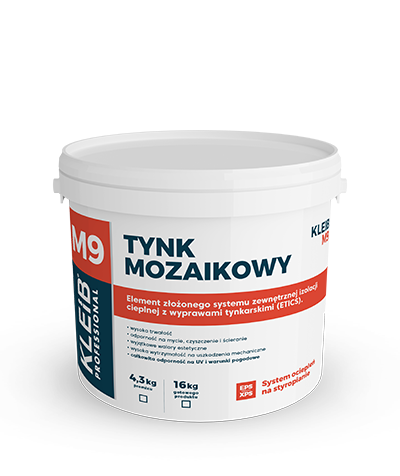 packaging
Premix: 4,3 kg
Ready product: 16 kg
pieces per pallet
44
Download product sheet
Current documents