KLM-20W is an element of the external thermal insulation composite system with plaster (ETICS) marketed under the trade name KLEIB.
high yield
easily workable
white
fibre reinforced
increased adhesion and very high degree of resilience
for white and graphite styrofoam
for forming imitation of the façade cladding board
does not contain lime.
INSTRUCTIONAL VIDEO: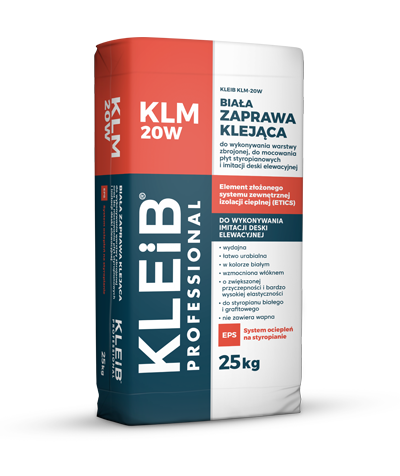 packaging
25 kg
pieces per pallet
54
average consumption
Approx. 3.0-4.0 kg/m2 for forming a reinforced layer.
Approx. 4.0-5.0 kg/m2 for attaching boards.
CALCULATE CONSUMPTION
Download product sheet
Current documents
Product card
Wzornik
System KLEIB