KLEIB G1 is a ready-for-use primer intended for all absorbent and porous surfaces such as gypsum boards,
plasterboards, plasters (gypsum, cement and cement-lime), concrete surfaces, aerated concrete and ceramics.
Thanks to its ability to even out the absorbency of a substrate, KLEIB G1 is particularly recommended to be used prior
to painting surfaces with uneven absorption, e.g. surfaces partially covered in plasterboards or gypsum. This universal
primer should be used on walls and ceilings prior to the application of ceramic tiles. KLEIB G1 also strengthens slightly
chalky surfaces. For old and very chalky substrates we advise using KLEIB G2 deep-penetrating primer.
for facades and indoor application
evens out the absorbency of the substrate prior to painting
applied to floor and wall surfaces prior to attaching ceramic tiles
ecological
odourless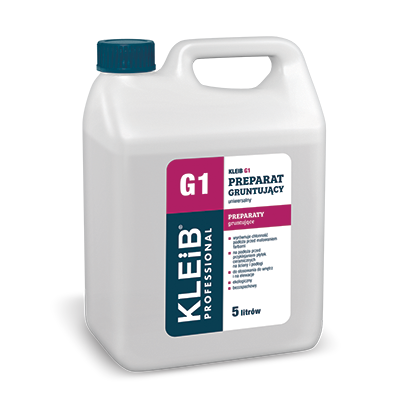 packaging
5 L
pieces per pallet
108
Download product sheet
Current documents