FOAM APPLICATOR GUN CLEANER
The CLEANER is a modern cleaning agent for cleaning surfaces and application guns freshly stained with polyurethane systems. The carrier gas used in the agent is a mixture harmless to the ozone layer.
removes uncured foam
degreases surfaces
cleans and maintains valves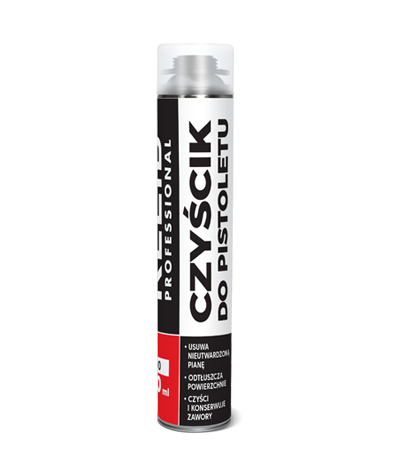 packaging
500 ml
pieces per pallet
12
Download product sheet
removes uncured foams and polyurethane adhesives,
indispensable for cleaning valves of containers and application guns for one-component fixing and sealing foam,
excellent degreaser for steel surfaces before applying polyurethanes and silicones.
Surface cleaning: Put the attached red spray head on the valve of the Cleaner. Spray fresh dirt and stains from foams or polyurethane adhesives. When cleaning the dirty outlet of the polyurethane foam container, spray the Cleaner thoroughly on the valve and gun adapter. Remove dirt with a dry cloth.
Gun cleaning: Disconnect the gun from the polyurethane foam container and remove the polyurethane foam remaining in the gun by squeezing the gun trigger. Put the red spray head on the valve and spray the connector – gun seat. Remove the red head and screw the Cleaner into the gun socket, press the gun lever again. Repeat the operation until the inner parts of the gun are completely cleaned of polyurethane foam. Thoroughly dry all cleaned surfaces.
Store the container in a cool, dry and well-ventilated room in an upright position at +5°C to +30°C (room temperature recommended).
Current documents