ADHESIVE FOR CERAMIC AND PORCELAIN TILES
C1T
KLEIB C9,5 is a cement-based adhesive for bonding wall and floor ceramic tiles (glazed tiles, terracotta tiles) and
porcelain tiles. It can be used on all dry, even and structurally sound mineral substrates inside and outside buildings,
also for underfloor heating system. It is suitable for sticking small tiles with an area below 0.36 m2, as well as for
leveling and spackling of surfaces. In case of heavily loaded substrates use KLEIB C11.
high yield, economical in use
for each type of tiles: glazed tiles, terracotta tiles and porcelain tiles
for interior and exterior use
with reduced slip
waterproof and frost resistant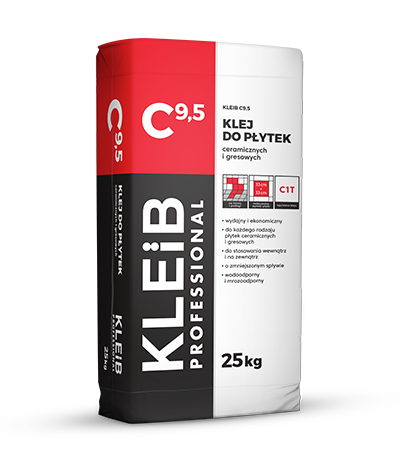 packaging
25 kg
pieces per pallet
54
Download product sheet
Current documents