ROUGH COATING
TO BE PUT UNDER TRADITIONAL PLASTERS
KLEIB C19 is used as a plaster rough coating constituting a bonding layer between the structurally sound base working
surface and top layer (finish coat), e.g. KLEIB C17 lightweight plaster for mechanical application. For manual and
mechanical application. For indoor and outdoor use on all strong, clean, dry and structurally sound surfaces such as
walls made of bricks, hollow bricks, silicate blocks, cellular concrete, gypsum elements.
for mechanical or manual application
enhanced adhesion to the working surfaces
reduces absorptive capacity of the working surface
waterproof and frost resistant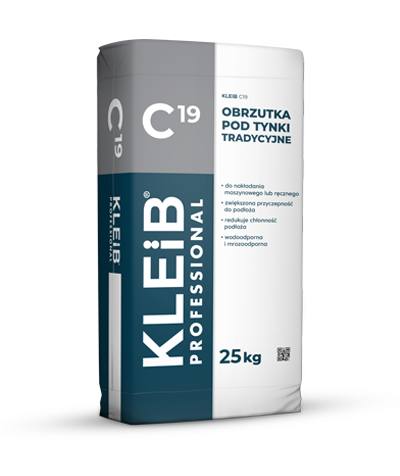 packaging
25 kg
pieces per pallet
54
average consumption
Approximately 7 kg of dry mortar is used to make 1m2 of plaster with the layer thickness of 4 mm.
CALCULATE CONSUMPTION
Download product sheet