NOWOŚĆ
MASONRY MORTAR FOR CLINKER
grey and graphite
KLEIB C16  KLEIB C16 is a grey and graphite-coloured masonry mortar for building structural and non-structural elements made of
clinker bricks, such as: walls, fences, chimneys, etc. It is also suitable for grouting façade tiles and clinker bricks
(provided that KLEIB C16 is also used for bricklaying). The maximum width of the joint must not exceed 30 mm. Thanks
to the trass content, it is resistant to the formation of various types of efflorescence. For interior and exterior use.
grey and graphite
reduced risk of efflorescence (contains trass)
excellent adhesion and resilience
vapour permeable
for interior and exterior use
hydrophobic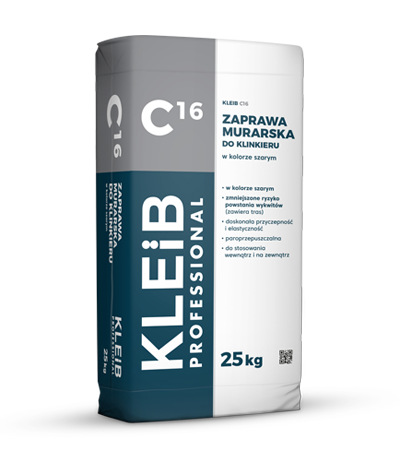 packaging
25 kg
pieces per pallet
54
average consumption
12 cm approx. 35 kg/m² of dry mortar with approx. 10 mm thick joint, 25 cm approx. 100 kg/m² of dry mortar with approx. 10 mm thick joint
CALCULATE CONSUMPTION
Download product sheet